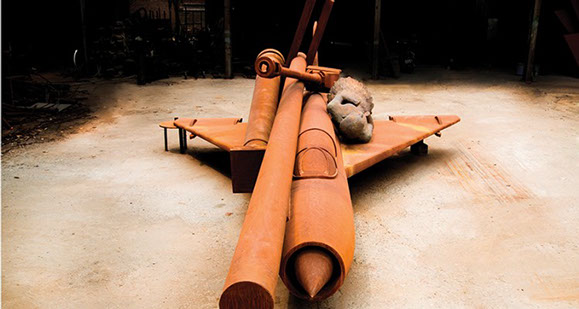 Mahmoud Obaidi : FRAGMENTS


Qatar Museum Gallery, Katara
Doha, Qatar

18 October 2016 to 30 January 2017
QM proudly present Fragments, a solo exhibition by contemporary Iraqi-Canadian artist Mahmoud Obaidi. In this exhibition, the artist retraces the 'organised chaos' that led to the destruction of Iraq, and presents a response to witnessing the city of Baghdad fall piece by piece. In his work, Obaidi recreates what has been stolen or destroyed to try to piece the city back together again. The exhibition shows how Obaidi is grappling with the destruction of an 8,000-year-old civilisation, which has been laid waste in less than a fraction of that time.
Conceptually expanding his vocabulary with his materials, Obaidi's life size sculptures are made from recycled American weapons, bronze and cotton steel. He places emphasis on the construction and manipulation of materials found in war torn Iraq. Drawing on the natural and cultural magnitudes of destruction in Iraq, this show address the impulses of institutions working through spatial and regulatory limits whose interest in the non-linear and in destruction is as productive 'force majeure.'
Mahmoud Obaidi is recognised for the political intent of his work that indelibly has a sense of mortality – of warriors and survivors, and a sense of pride in their history.
ABOUT THE ARTIST
Mahmoud Obaidi (b. 1966, Baghdad, Iraq) left Iraq in 1991. He obtained his Masters of Fine Arts at the University of Guelph in Canada, and completed diplomas in new media and film from Toronto and Los Angeles, respectively. Since his first international solo exhibition in 1995, his work has been exhibited in a number of museums and galleries around the world, including the National Museum of Bahrain (Kingdom of Bahrain), Museum of the Institut du Monde Arabe (France), Mathaf: Arab Museum of Modern Art (Qatar), Museum of Modern Art in Jordan (Jordan), Station Museum of Contemporary Art (Texas, United States), the Museum of Contemporary Art of Baie-Saint-Paul (Quebec, Canada), among others. His work is part of the permanent collection of a number of significant museums, foundations, and private collections.


design: gitta pardoel logo: modhir ahmed © ila-magazine